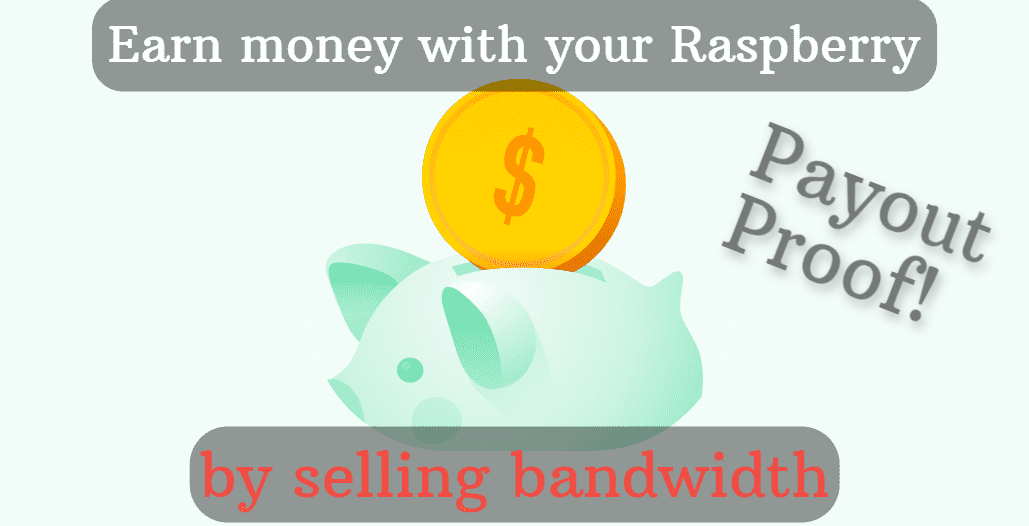 Earn Money with Your Raspberry by Selling Bandwidth (Payout Proofs!)
Update:
In this article, I have collected all the similar passive income opportunities to make money with Raspberry Pi:
Make Money with Your Raspberry Pi: A Step-by-Step Guide to Passive Income in 2023
For the highest possible income, I highly recommend reading the article mentioned above.
---
There are a lot of ways to make money on the Internet. My favorite option is to sell your Internet bandwidth.
It generates passive income on a daily basis. You simply run one application on your computer and it automatically monetizes your unused bandwidth. It doesn't slow down your PC or your Internet, I run this app always on my laptop without any issue. Everything is smooth.
Finally, we can make money with Raspberry Pi.
Payout proofs are located at the ↓ bottom ↓ of this page
I'm really happy to hear about this project, called EarnApp. This program can sell your unused bandwidth to others, and it can make money for you. It's similar to Honeygain or PacketStream. Effortless making money method, I love it!
Payout Platforms: PayPal, Amazon Gift Card
Minimum payout: $2.5 (Amazon Gift Card from $50)
Automatic payout? Yes! :)
Conversation rate: $1 / 10GB
Available on: Android, Windows, Linux, Raspberry Pi, and MacOS
4 Easy Steps to Start Passive Income:
Enter your PayPal address to get money automatically

Install the application on your PC and/or Raspberry Pi. Download link is available from the Dashboard. Raspberry Pi install guide ↓ below ↓

No more step! Enjoy the passive income and do not forget to check other passive income methods.
How to Install on Raspberry Pi (or Linux based PC)
Run this one-line command:


wget -qO- https://brightdata.com/static/earnapp/install.sh > /tmp/earnapp.sh && sudo bash /tmp/earnapp.sh




After the install, do not forget to register your Raspberry on the EarnApp Dashboard by copying the device ID from the terminal:

Tips to make more money
Run multiple programs at the same time on your computer, like PacketStream, Honeygain, and more
Run these programs 7/24 on your device to maximize the income
Run these programs on multiple devices and multiple locations (e.g. at home, at your parents, and in the office), if possible
Bookmark my blog and subscribe to Instagram, Twitter or Facebook page to get notified about new ways of passive income
Payout Proofs - More than 180 (!) payouts have been received
All payout proofs are located on Facebook, Instagram, and Twitter. Follow me on these social networks, and be the first to know about what's new.
Enjoy the passive income and do not forget to check other passive income methods.