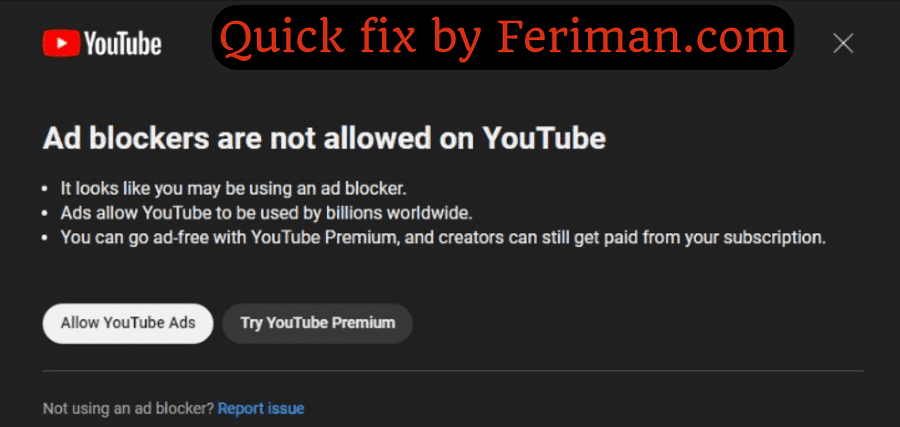 Easy and Free solution for "Ad blockers are not allowed on YouTube"
You may have already come across the latest YouTube pop-up that looks like the one at the top.

Below is a very simple, quick and free solution to get rid of the pop-up.
Let's get started!
If you are currently using an Adblock or Adblock Plus add-on for your browser, uninstall it. There is a much less resource-intensive, also free ad-blocker (see step #2). If you are already using it, skip this step, and go to step #4. 


Install an ad blocker called uBlock Origin. Select the link that corresponds to your browser to install it:
Chrome
Firefox
Microsoft Edge
Opera


Reload (F5) the opened YouTube window to activate the ad blocker.


If you see the "Ad blockers are not allowed on YouTube" window pop up on a video, click here:

If for some reason the pop-up window appears again, repeat step #4. I only had to add it again once, and I haven't seen this window since.
If for some reason you need my filter, I put it here:
! 2023-10-27 https://www.youtube.com
www.youtube.com##tp-yt-paper-dialog.ytd-popup-container.style-scope
That's it.
If you found this guide useful, don't forget to forward it to your friends :)
If you found this article useful and would like to show your appreciation, please consider making a small donation via PayPal. Your support will allow me to continue creating valuable content and make my blog even better. Thank you for your contribution!